Roof Repairs
When it comes to protecting your family and investment, you need the best roof repair company around. You need Roof Reairs Co., Winthrop, Ma, your trusted Greater Boston area roof leak repair specialists.
An aging roof appears to be worn down. It decreases the value of your home.  Minor repairs can help revive the look of your home. When your shingles start to show their age or evidence of weather damage, it's best to look to The Roof Repair Corp. for roof repairs. 
Extending the life of your roof with just a bit of roof repair is achievable.  At The Roof Repairs Corp, Leaky Roof, we believe in being proactive when it comes to your roof's health. You can maintain the integrity of your roof (and your home) which is what we're all about.
It is quite acceptable, to repair a roof, rather than replace it. The choice you make depends on several factors. Those factors are the type of roof damage and what percentage of the total roof surface is in need of repair.
Can You Repair a Roof Instead of Replacing it?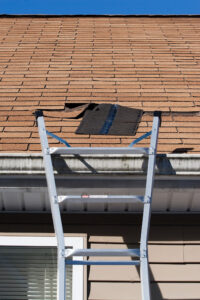 Replacing a few shingles often restores beauty and function to your roof. Asphalt shingles are designed to last for decades. Today's modern roofing is engineered for long-term durability.
It is imperative to have a professional inspect your roof. The Roof Repairs Corp. will determine if any of the underlayment or decking is damaged. There's a big difference between a few missing shingles lost during heavy weather and a leak that extends through the various layers of your roof. If there is extensive damage, it could be a better idea to replace your entire roof.
Can I Mix New Shingles with Existing?
Shingles are exposed to rain, snow, and heat. If you have a remaining spare bundle of shingles leftover from your residential roof installation, you might have a hard time matching them to the ones on your roof. This is especially difficult if the existing ones are covered in moss, lichen, or something else. 
Depending on the location and the size of the area in need of replacement, it might be difficult to blend replacement shingles into the rest of the roof. However, if the area in need of new shingles is inconspicuous, or the section is relatively small, you might be able to get away with nailing down some replacement shingles.
Tip: If your roof is missing a few shingles, don't wait to replace them. The shingles are there to protect your roof's decking from moisture and wind. Even a small exposed area can allow water to seep into the underlayment and into the deck, where it can cause rot and leakage.
Can You Replace Just a Few Shingles?
Repairing individual shingles can often be successful.  It's best to consult The Roof Repairs Corp. Residential Roof Repair Specialist.  We can perform a thorough inspection to determine if Roof Repairs will extend your roof's lifespan, without leading to future damage.
Major signs of serious roof damage include:
Shingles that are curling at the edges or starting to buckle.

Water leakage or rot in your attic. 

Presence of asphalt granules, the small, pebbles that coat the outside of the shingle, in your gutters, or on the ground.

A "sagging-roof" is a sure sign of a more serious problem.
Get a quote
Complete this form to request a quote, a representative from Roof Repairs will respond within 24 hours.
– OR-Call: (617) 846-0900